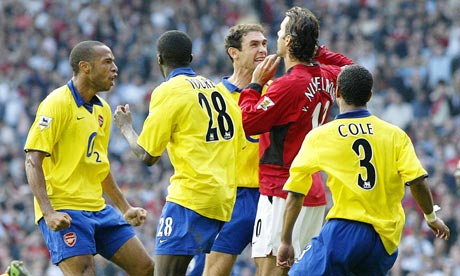 Dear Arsenal,
After so many years of fire and passion, it is over. I just can't look you in the eye any more.
It's not me, it's you. You used to challenge me and the physical side of our relationship was amazing. But slowly over recent years that side of things has been on the wane, and I have had to look around for new, more exciting liaisons.
I'm not to one to dwell on physical appearance, but you've let yourself go. Your once tight backend and your swivelling hips that left all and sundry mesmerised is gone, and I have no faith that you have the ability – or even the inclination – to get it back to how it used to be.
I can't help but remember the good times; they'll stay with me forever. You know, Sol Campbell being sent off for a flaying elbow, Martin Keown getting all up in Ruud's grill after his missed pen, your FA Cup victory on penalties against me when it seemed like I had 80 percent of the ball and 60 shots and of course Giggsy's winning goal in the '99 FA Cup semi final replay.
But now it's just boring. You tried to spice things up recently with a 1-0 win late last season, but while I appreciated the effort, deep down it felt a bit empty. I mean, after City and I shared that amazing derby in February, everything else felt a little… you know… meaningless.
While you've no doubt noticed my flirtations with that young thing Chelsea over recent years, it is really two of my old exes – Liverpool and City – that have me interested again. You see, they've made an effort. They've fought and bought for my attention. And because they've been so close for so long, it feels more homely.
I'm sorry, but it's over. I know you have that little thing on the side with Spurs – maybe a passionate fight with them over minor European places can inspire you into the team you once were. But I doubt it.
Yours in sadness,
Manchester United